1 – I was able to exercise at home again (excluding the jogs/brisk walks I've had with Richelle in the park), after such a long time of going into hibernation. Ever since winter came, I haven't had the motivation to exercise because of the cold. However, there have been some nights recently when it feels like spring is here and it isn't as cold anymore. On one such occasion, my boyfriend and I decided to exercise together. He wanted me to do yoga with him because he wants to improve his flexibility, and so I looked for a short flexibility yoga video and we did it together. Then, he went on to do his ab exercises and I went back to my Jillian Michaels' 30 day shred level 1 video. I almost died because my body just isn't in shape anymore, but finishing that video and getting a workout in felt good. However, my body was sore and in a lot of pain days after and it started to get cold again so I became lazy again. The next time I exercised was earlier this evening and it was even worse than last time, because I decided to switch up some moves to challenge myself more and so I got really dizzy and felt like I was gonna puke. Can't wait for spring/summer to come so that I can get back to working out everyday.
Below is one of the dinners we made together the past week. I would usually eat dinner in the office because I didn't want to eat late at night and I have to work overtime, but on this night, I was lazy to bring dinner but I still ended up staying until 7:30PM. My boyfriend picked me up from the office and we decided to make a salad and French toast so that it would be quicker to prepare.
We also watched The Imitation Game and it's gooood. Benedict Cumberbatch and Keira Knightley are great at what they do (in my opinion, at least) and I found the movie to be really good. Below are some pictures I took off the Internet with the most important quote in the movie.
"Sometimes, it is the people no one imagines anything of who do the things that no one can imagine."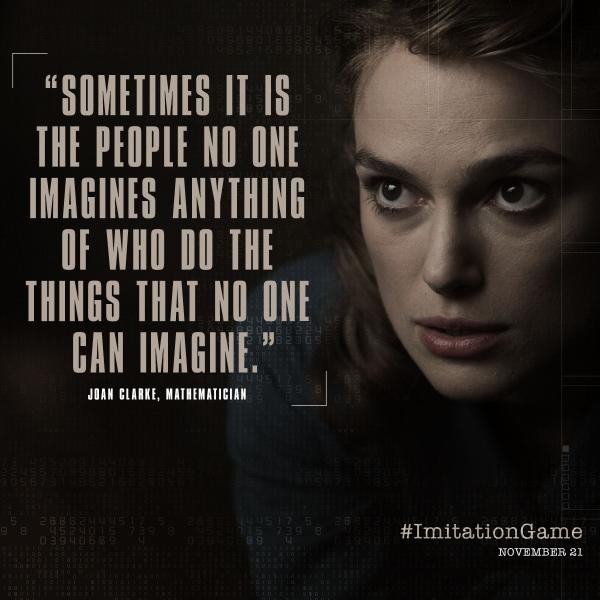 2 – My business cards arrived this week. I hope the seminar/networking thing on Monday goes well. I don't really know what to expect/prepare. Oh well.
I also finally got my JP visa!! It was so kind of my manager to allow me to leave the office to apply for my visa, and then claim it the following day. I thought it would take a minimum of 1 week but it only took a day. Wow, talk about efficiency! Good thing Japan's representative office was near our office. This feels so real! I can't wait for Japan together with my family and my boyfriend! It'll be our (my boyfriend and I) first time traveling to a place other than the Philippines, so I'm excited to show him Tokyo.
3 – My manager was recently promoted so she decided to treat us out to lunch. It was our team, along with the president and his business secretary, like usual. We had lunch at this Thai restaurant near our office, where the servings were small so we had to order more in order to get full, but the food was pretty good (except the desserts and drinks). During lunch, they told the president about my good performance so far and my supposed good luck when it comes to securing businesses. I've been in the department for almost 3 months now, and I've already had 4 shipments. Yay! I really hope these become regular shipments though, so that I'd have a steady flow of "business".
4 – I met up with Timothy for dinner, and it felt sooo good spending time eating, talking, and laughing with a real friend. They're hard to come by, so I'm really thankful I have him in my life. He's my first Taiwanese guy friend (my boyfriend doesn't count because well, he's my boyfriend xD) and I can say with utmost certainty that we're reallyyy good friends and that I'm super comfortable to be around him because we've shared a lot of experiences (mainly grad school) together.
5 – We were supposed to stay at home to exercise and then watch a movie, but then my boyfriend's brother asked us if we wanted to go with him to Ximending to walk around and to look for stuff he wanted to buy. We went into a lot of stores, and eventually ended up going on a mini food trip because it's been so long since I had these (grilled mochi and cheese potato) and because I was hungry. Heehee.